My mittens!
These are the mittens I sent to my swap partner: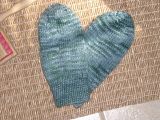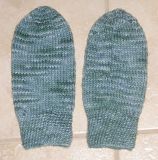 I hope she likes them and that they fit! They're very soft, and the people I tried the sizing out on liked them, anyway. ;) The pattern is semi mine, meaning I based it on a bunch of patterns, some of which I found on the Internet and some of which are in books I own.
And this is the wonderful mitten package I received: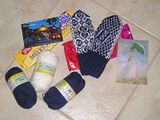 The mittens are
super-nice
... actually, probably among the nicest knit objects I own ... and totally out of my league as far as complexity level. Wow! And yes, indeed, they do fit! ;D I also love the postcard and the chocolate (though I haven't tried it yet, but anyway, it's chocolate from another country ... and that's cool! ;)), and I'm especially jazzed by getting to try out Dale's Baby yarn, which I've never used before ... Mmmm, yarn! I love getting nice yarn in the mail. ;D
By the way, my Significant Other was exceedingly impressed by the mittens, too, and by the package. He wants to make sure I hand out Major Kudos, so consider them handed out. ;D Yay!